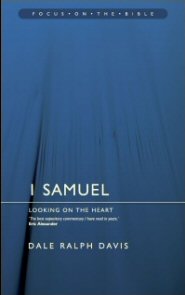 This is the first commentary that I have read by Dale Ralph Davis, but it won't be the last. In fact, this is the first commentary that I have ever read completely through. Most commentaries are beneficial as a resource on this passage or that Greek word, or some textual tradition. Davis covers those topics, of course not Greek but Hebrew, and the bulk of the commentary is like sitting down with your pastor over a cup coffee chatting about the majesty of our Lord.

Dale Ralph Davis is a wonderful exegete and this volume exemplifies his ability to understand and apply the biblical text in its manifold wisdom. In this book, Davis examines the theology of 1 Samuel, its relation to the theology of the Bible as a whole, and applies those truths with many illustrations and modern elaborations that make this little commentary a joy to read. For those looking for a high level critical commentary on the Hebrew text, you will not find that here. However, Davis does not shy away from difficult Hebraisms, or what would seem to be corrupted textual transmissions. He always addresses issues in footnotes and provides supplemental resources 
that
 have thoroughly masticated such issues.

The real light that makes this such a beautiful gem is that Davis does not write as an academic, but as a pastor with heart for his readers. I read this book over the course of a couple months, taking my time to walk through 1 Samuel with Davis as my guide. A little here and a little there. With Davis leading me, my were opened to things I had never seen in 1 Samuel. Davis is like that awesome tour guide who knows all the best sights to see, and he won't let you join the rest of the group until he has made sure you understand the true beauty of what you are witnessing.
There are certainly difficult truths in 1 Samuel and Davis handles them with care. For example, we find that God relents (or repents in some translations) and in the same chapter we read that God is not am an that He should relent (1 Samuel 15:11, 35, 29). After some discussion Davis writes this, "The paradox tends to split our minds, but a little thought tells us that this God who both repents and does not repent is the only God we can serve. Only in the consistent God of verse 29 and in the sorrowful God of verse 35 do we find the God worthy of praise. Here is a God who is neither fickle in his ways nor indifferent in his responses. Here is a God who has both firmness and feeling. If we cannot comprehend we can perhaps apprehend, at least enough to adore" 162. Davis also draws a clear distinction between human repentance of sin and God's repentance of deed. However, if you want more discussion on that, get the book!
Another aspect of this book that makes me recommend it highly is that anyone can read it. The chapters of the book generally follow the chapters of 1 Samuel. So, you would be able to read 1 Samuel 14, and after pondering the text, you can turn to Davis and his chapter on 1 Samuel 14. If you did a chapter a day, or followed Davis strictly, you could finish 1 Samuel, and Davis' book in a month and your understanding of God's Word would be greatly impacted for the rest of your life.